The vanguard of interactive horror theatre presents: Reaper's Remorse.
There are some dead that won't let go. Clutching to this world by whatever threads they can find. Pretty red shoes. A shotgun. A loved one left behind. And although these strands of life can be as innocent as a child's toy… everything has its price. A price only Esther Phillips can afford. 
She lives alone. A solemn collector surrounded by artifacts that not only tell tales, but carry the very souls they're tied to. An ethereal prison of those unwilling to let go.
Esther's latest acquisition may be her greatest yet… if she would only go near. Fear, anger and regret bleed from it. Things decay, but memories can linger.
A rare invitation has been extended to you, fellow lovers of the occult. An exclusive evening to play your part in the haunting and epic story of Esther Phillips. 
There are some dead that won't let go, and there are others that must make them.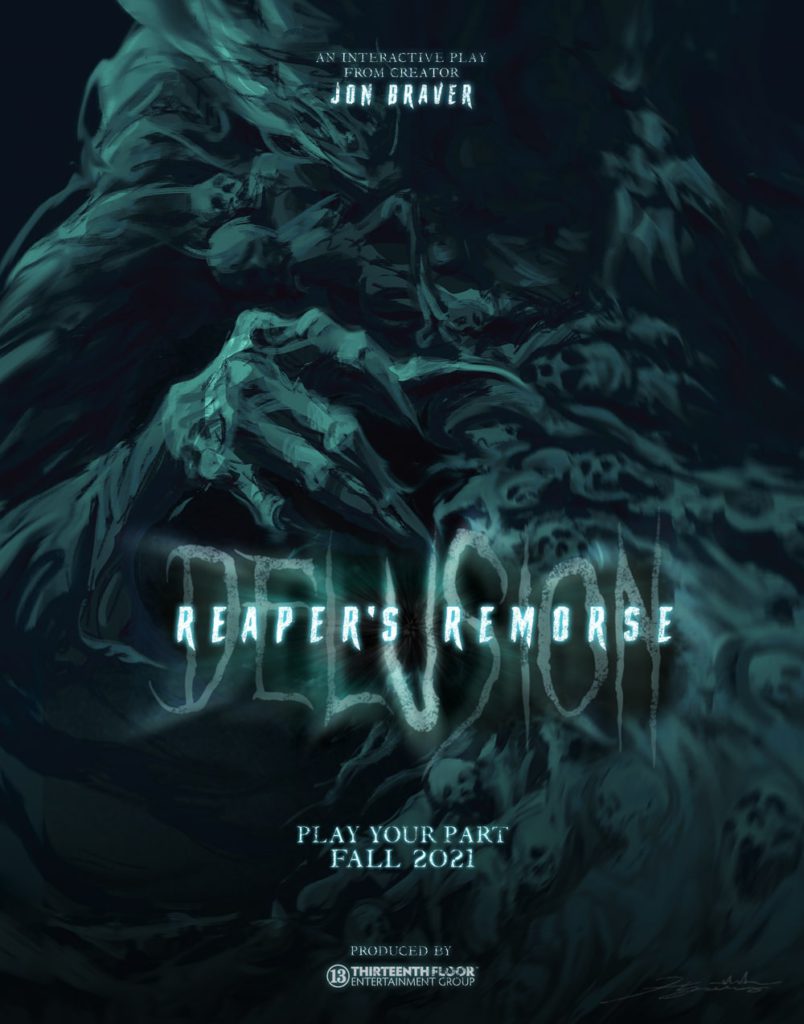 Written and Directed by
Jon Braver

Produced by
Thirteenth Floor Entertainment Group

Producer
Dave Brzozowski

Associate Producer & Production Manager
Victor Mathieu

Production Design
Kevin Williams

Lighting Design
Ian Momii

Stage Manager
Amanda Eno

Sound Design
Victor Mathieu

Costume Design
Cat Elrod

Creature FX
Jim Beinke

VFX Supervisor
Jesse Kirberger
WHAT IS INTERACTIVE THEATRE?
Since 2011, Delusion has led the way in the emerging world of interactive theatre. Captivated audiences venture through a one-of-a-kind interactive experience, placing them as key players in the unfolding of a live and otherworldly tale. A haunting venue hosts professional actors, stunt people, practical creature effects, and an original score all to help weave together a story unlike any other. There is nothing in the world like Delusion.
The dark welcome of the Phillips Second Empire Mansion is intoxicating. It sits alone while the modern world grows around it. Yet Miss Phillips prefers it this way. As fellow lovers of the occult, we are privileged to have received this exclusive invite to her estate. Fall is in the air as the blaring of the train horn strangely announces our arrival. Her first guests in some time. An otherworldly evening stands before us.